Translucent Envelope Printing
For an Instant Quote or to place an order, please fill in the specifications below.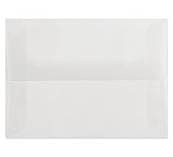 Translucent Envelopes are uniquely suited to drawing attention to the contents of the envelope. Common uses include Invitations, Announcements, Direct Mail and Personal Correspondence.
When it comes to translucent self seal envelope printing, we want to be your vendor of choice!
Available in 1 color and 2 color.
We uniquely offer friendly, small-company service
with big-company capabilities!