Full View Window Envelope Printing
For an Instant Quote or to place an order, please fill in the specifications below.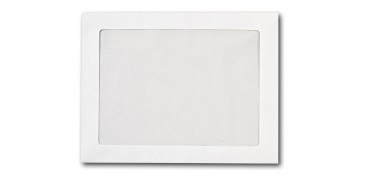 Full View Window Envelopes are the perfect choice when you want to show off the contents of the piece you're mailing. The face of the envelope is "mostly window" which is centered as shown in the pictures above.
The paper is 28# white kraft and the flap is standard gum. The pricing below is for blank envelopes because there is no need for printing. Most of these Full View window envelopes are "in stock" and available for immediate shipment.
Our 2 most popular sizes are below and can be ordered instantly from the website. Howevere offer a large variety of other Full View Window Envelopes. Please call 1-877-336-9666 or submit a Custom Quote to find out more about the other sizes.
We uniquely offer friendly, small-company service
with big-company capabilities!