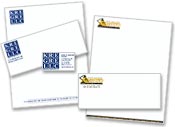 For an Instant Online quote or to place an order for stationery printing, please select a stationery configuration from the options that appear to the right.
We guarantee your print job!
With PrintingYouCanTrust.com, you can purchase your stationery elements individually or as a package. Select a print quantity from as few as 500 to as many as 10,000 for letterhead and envelopes. For business cards (you can have multiple names printed on business cards at the same time) up to 4000. Identify your preference from Strathmore or Cougar quality papers and use one, two or four colors for each component. Then order a hard copy or electronic proof - whichever works best for you. You also choose from four delivery schedules and shipping options. See samples of stationery.
PrintingYouCanTrust.com helps you convey an appropriate image through your stationery by delivering superior printing at a reasonable price. We're committed to your complete satisfaction, which is why we offer a satisfaction guarantee. We also make the process easy for you with instant pricing, acceptance of nearly every type of file format and timely scheduling options. Get quality stationery printing online - fast - from a source you can trust, PrintingYouCanTrust.com.
The thing I like about PrintingYouCanTrust is that even though it's an inter-net business, I feel like I'm getting to know them personally because of their personalized email messages. Plus, the printing always comes out great.
Liana Clark, Director of Marketing Comfort Inn & Suites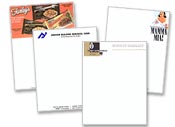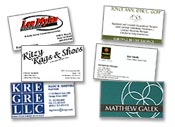 For an instant quote or to place an order, please select your size from the options below.
Letterhead and Envelope Package
Letterhead Envelope and Business Card Package
(500 Count)
Letterhead Envelope and Business Card Package
(1000 Count)
Need non-standard sizes or ink configurations, call 877-336-9666 or request a
Custom Quote