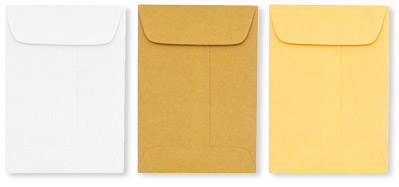 Coin Envelopes have many uses. Jewelry companies and pawn shops use them for storing and sending watches, jewels, rings, earrings, and other small parts. Hair salons and massage parlors use coin envelopes for collecting gratuities and tips. Doctors, dentists and laboratories use coin envelopes for storing teeth, rubber-bands, lab specimens, batteries and hearing aids. Crime scene and forensic laboratories use them to store evidence and samples. Currency exchanges use them to hold money and keys, and churches often use them to hold offerings. There are many other things that these versatile little envelopes are used for to help make your life easier and more organized, like holding buttons, pins, and stamps.
Our online paper choices are for:
24# white wove
24# brown kraft
28# manila kraft
Our online flap closure options are:
moistenable glue
latex seal
Peel & Seel®
If you prefer a different paper or ink option, please call or submit a Custom Quote.
Available in 1 color, 2 color and 4 color CMYK. We offer a large variety of other Coin Envelopes. Please call 1-877-336-9666 or submit a Custom Quote to find out more about the other options.
We uniquely offer friendly, small-company service
with big-company capabilities!

Peel & Seel® is a federally registered trademark owned by the National Envelope Corp.