Brochure Printing - Tri Fold Brochures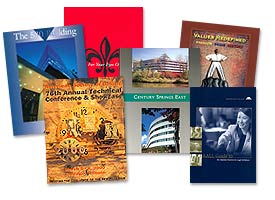 Brochure Printing from Printing You Can Trust gives you many different options including half fold and tri-fold. Select a quantity from as few as 500 to as many as 100,000 brochures. Your job is printed on a quality offset printing press and we don't gang run. You can choose from three different sizes for your brochure:
Identify your preference from a variety of matte and gloss paper printing options and several folding alternatives including half fold and tri-fold brochures. Add an extra special touch with a coating. Then order a hard copy or electronic proof - whichever works best for you. You also choose from four delivery schedules and shipping options.
A Printing Company that Guarantees your Printing.
PrintingYouCanTrust.com makes your brochure printing sing by delivering superior full-color printing at a reasonable price. We're committed to your complete satisfaction, which is why we offer a satisfaction guarantee. We also make the process easy for you with instant pricing, acceptance of nearly every type of file format and timely scheduling options. Get quality prints fast, from a source you can trust.
PrintingYouCanTrust Experience
PrintingYouCanTrust.com was formed in 2003 by a team of professionals in the commercial and desktop printing industries. The company was established to meet a growing need in the marketplace: a trustworthy online source for quick and easy quality printing for no fold, half fold and tri fold brochures.
The company was founded and directed by Aaron Marsh. Aaron has spent more than 25 years in the printing industry and has worked intimately in all aspects of pre-press, printing and finishing, as well as, customer relationships. His philosophy in life of "do unto others as you would have others do unto you" has led to satisfied, long-term and loyal customers throughout his career. His clients know that his word is backed up by action and integrity.
What Clients have to say about our Printing Services
"I was skeptical about ordering printing online. I'm happy to say you have made a believer out of me! My brochure was delivered on time and the quality was fantastic. All of this and a really great price, too. You can count on me for future orders!"
Q. Witt, Proactive Computing Solutions, Inc.
"I couldn't find anyone who could open up my files because I used a less commercially popular program, but you opened them with no problems. You were extremely patient with me. The jobs turned out beautiful! Thank you so much. I will definitely use you again."
Joyce Ann, Building Better Balance
High quality, great pricing, an instant quote and an online proof. Visit PrintingYouCanTrust.com and find an easy and professional way for printing online brochures.