Hotel & Motel Keycard Envelope Printing
For an Instant Quote or to place an order, please fill in the specifications below.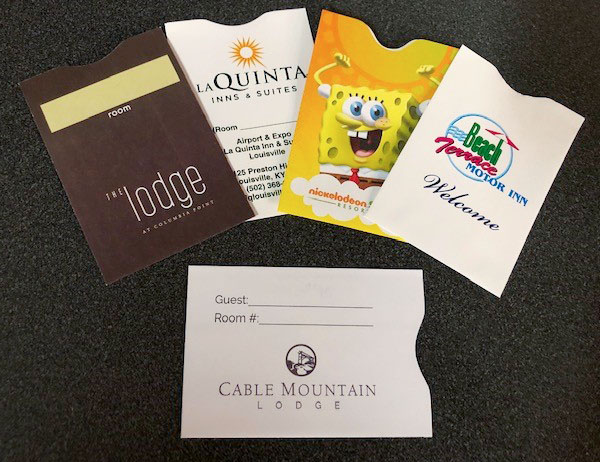 Hotel / Motel Key Card Envelopes are the small envelopes / sleeves that hold keycards. When customers check in, they are handed one of these holders and the keycard is inside of this keycard envelope.
These envelopes are great for helping guests remember their room number, or to keep track of the keycards so they don't get lost. Frequently, there is information printed on the envelope regarding the hotel / motel, but there can also be advertising to local establishments like restaurants, etc. which can make a client's visit more enjoyable.
With our hotel / motel keycard envelopes, you can custom print just about anything you want. Most of our orders are printed in 4 color CMYK on a quality 80# Text Dull paper, which is coated with a dull finish. Below, you can receive an instant quote and also place your order online. However, you can also further customize your paper, ink and size options by calling us at 1-877-336-9666 or by submitting a Custom Quote.
We have the capabilities of a big company while providing small company service.
You can simply call us at 877-336-9666.
Fill out the online order form below.