Coin Envelope Printing
For an Instant Quote or to place an order, please fill in the specifications below.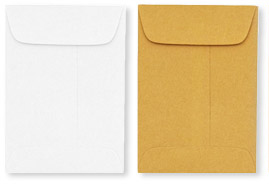 Printed coin envelopes are very versatile and have so many uses, it's impossible to list them all!
Below are some of the more common ways companies use these handy little envelopes:
Hair and Nail Salons and Massage Studios: Used for tips/gratuities.


Jewelry Stores and Pawn Shops: For storing and sending watches, jewels, rings, earring, and other small items.


Currency Exchanges: To hold money.


Seeds: Nurseries and hardware stores sell seeds in coin envelopes.


Hardware Stores: Nails, screws, fasteners, washers, seeds, keys, buttons, pins, and many other small items.


Churches: To hold tithe and offerings.


Laboratories: To hold various specimens, evidence, and samples.


Doctors and Dentists: To hold teeth, rubber bands, hearing aid batteries, etc.
Our online paper choices are for:
24# white wove
24# brown kraft
Our online flap closure options are:
moistenable glue
latex seal
Peel & Seel®
If you prefer a different paper or ink option, please call or submit a Custom Quote.
Available in 1 color, 2 color and 4 color CMYK. We offer a large variety of other Coin Envelopes. Please call 1-877-336-9666 or submit a Custom Quote to find out more about the other options.
We uniquely offer friendly, small-company service with big-company capabilities!
Peel & Seel® is a federally registered trademark owned by the National Envelope Corp.
For repeat orders you have 2 options:
You can simply call us at 877-336-9666.
Place the order online below.
For more paper stock and size options, larger quantities, or additional ink color options, call us at 877-336-9666 or submit a custom quote.