Double Window Envelopes with Tint Printing
For an Instant Quote or to place an order, please fill in the specifications below.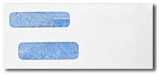 Double Window Envelopes are used for mailing out checks, invoices or statements. Our most popular size is the #9 which is compatible with QuickBooks as well as many other popular software packages.
The paper is 24# white wove with an inside security tint. The flap has standard gum. There is no need to print these because your return address shows through one window and the mailing address through the other.
Our 3 most popular sizes are below and can be ordered instantly from the website. However we offer a large variety of other Double Window Envelopes. Please call 1-877-336-9666 or submit a Custom Quote to find out more about the other sized.
Most of these double window envelopes are "in stock" and available for immediate shipment.
We uniquely offer friendly, small-company service with big-company capabilities!
For repeat orders you have 2 options:
You can simply call us at 877-336-9666.
Place the order online below.
For more paper stock and size options, larger quantities, or additional ink color options, call us at 877-336-9666 or submit a custom quote.