Security / Tinted Window Envelope Printing
(Inside Security Tint)
For an Instant Quote or to place an order, please fill in the specifications below.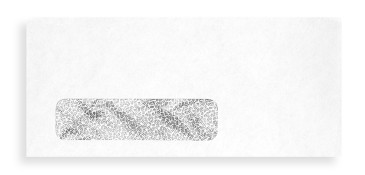 Tinted Window Envelopes, also known as Security Tint Window Envelopes, serve two main functions:
Most of the inside content can't be viewed, like checks and other personal information.
The name and mailing address can be viewed, eliminating the need to address the outside of the envelope thus saving you time and money.
The tinted pattern on the inside will be black or blue with a standard pattern. When it comes to Tinted Window Envelope Printing, we want to be your printer of choice.
Available in 1 color, 2 color and 4 color CMYK. We offer a large variety of other Tinted Window Envelopes. Please call 1-877-336-9666 or submit a Custom Quote to find out more about the other options.
We uniquely offer friendly, small-compa
For repeat orders you have 2 options:
You can simply call us at 877-336-9666.
Place the order online below.
For more paper stock and size options, larger quantities, or additional ink color options, call us at 877-336-9666 or submit a custom quote.