Custom Tip and Gratuity Envelope Printing
For an Instant Quote or to place an order, please fill in the specifications below.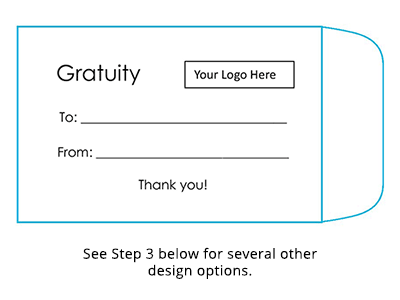 Using an envelope for tips is a classy way to give gratuity to service providers like hairdressers, massage therapists, hotel maids, and caterers. Concealing cash tips in a small envelope can avoid the awkwardness that might come with receiving or handing over cash and keeps prying eyes at bay.
Our online paper choices are for:
24# white wove
24# brown kraft
These envelopes have moistenable glue (the kind you lick to seal). We can offer either self-seal (latex seal or peel & seel) on the three larger sizes as a custom option. If you would like a quote for self-seal, please call or submit a Custom Quote.
Available in 1 color, 2 color and 4 color CMYK. We offer a large variety of other Gratuity/Tip Envelopes. Please call 1-877-336-9666 or submit a Custom Quote to find out more about the other options.
We uniquely offer friendly, small-company service with big-company capabilities!
Peel & Seel® is a federally registered trademark owned by the National Envelope Corp.
For repeat orders you have 2 options:
You can simply call us at 877-336-9666.
Place the order online below.
For more paper stock and size options, larger quantities, or additional ink color options, call us at 877-336-9666 or submit a custom quote.