Commercial Window Envelope Printing
For an Instant Quote or to place an order, please fill in the specifications below.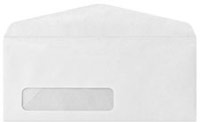 Window Envelopes allow an address to show through the window eliminating the need to address the outside of the envelope thus saving you time and money. Window Envelopes are commonly used for invoices, statements, business letters, bill paying, marketing applications and so much more. When it comes to Commercial Envelope Printing, we want to be your printer of choice.
Available in 1 color, 2 color and 4 color CMYK. We offer a large variety of other Window Envelopes. Please call 1-877-336-9666 or submit a Custom Quote to find out more about the other options.
We uniquely offer friendly, small-company service with big-company capabilities!
For repeat orders you have 2 options:
You can simply call us at 877-336-9666.
Place the order online below.
For more paper stock and size options, larger quantities, or additional ink color options, call us at 877-336-9666 or submit a custom quote.