Colored Envelope Printing
For an Instant Quote or to place an order, please fill in the specifications below.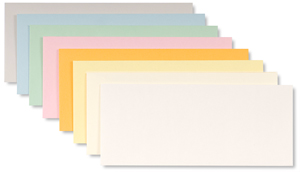 Colored Envelopes add a little zing and help get your printed materials noticed. Our online pastel options are: Blue, Canary, Creme, Goldenrod, Gray, Green, Ivory, and Pink. Each color comes in several sizes. When it comes to Colored Envelope Printing, we want to be your printer of choice.
Available in 1 color and 2 color. We offer a large variety of other Colored Envelopes. Please call 1-877-336-9666 or submit a Custom Quote to find out more about the other options.
We uniquely offer friendly, small-company service with big-company capabilities!
For repeat orders you have 2 options:
You can simply call us at 877-336-9666.
Place the order online below.
For more paper stock and size options, larger quantities, or additional ink color options, call us at 877-336-9666 or submit a custom quote.