When guests check into a hotel, the first thing they are issued is a key card to get into their room. While the key cards are obviously important for getting in and out of the room, the key card envelope is also important for helping guests keep track of the card. Key card holders are often custom printed for the hotel which gives hotel operators an opportunity to be creative with what is printed on the envelope. The name and contact information for the hotel is standard, but hotels may also include information on the key card holder that is useful for their guests.
Hotel key card holders first and foremost help guests keep track of the key. Without a key card holder, guests may put the key card in a wallet, bag, or purse where it can get lost or mixed in with their personal belongings. Putting the key cards in a holder will help guests distinguish it from the rest of their belongings.
Hotel Key Card Custom Printing Options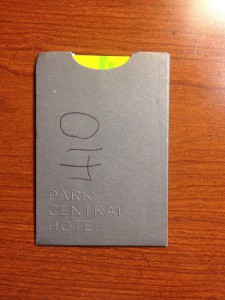 These envelopes are just like any other custom printed envelopes and hotels have a lot of freedom with what they can print on them. Remember, there are two sides of the key card holder so it is possible to do any two of the following options:
Hotel Name and Information: Most hotels print their name, logo, phone number, and other contact information on the key card envelope. This is standard practice and a good way to build brand recognition.
Ad Space: The side of the key card holder opposite of the side with the hotel logo can be sold as ad space. Many hotel guests are from out of town and selling ad space to a local company can help improve their business while your hotel makes some money.
Map: Printing a map of the area that highlights local attractions can be very helpful to your guests. Another option would be to put a map of your hotel so guests can easily find their way around and locate their room, pool, etc.
Specific Local Attractions: You can provide your guests with a list of attractions on the key card holder that may be interesting to visit during their stay. This space can also be used to promote one local attraction which is similar to selling ad space for a company.
Custom Printed Hotel Key Card Holders from Printing You Can Trust
Custom printed hotel key card holders are one of the many products offered by Printing You Can Trust and there are a range of options available. You can order your key card envelopes in a couple of different paper options and we offer a low price for printing with 4 color CMYK ink. If you have a PDF file for the image or design you want on the key card envelopes, you can submit the file to us directly. You can enter the information for your project online to get a custom quote or call us directly at (877) 336-9666 to get started.