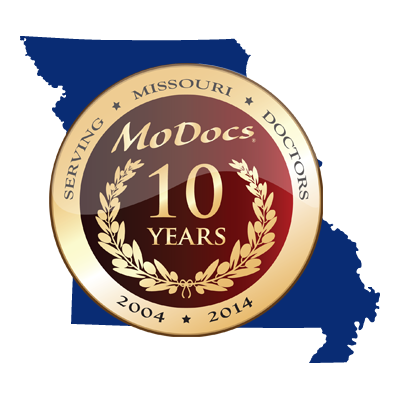 MoDocs is an organization that provides medical professional liability insurance to Missouri physicians, surgeons and healthcare professionals. Their mission is to provide policyholder members with a superior policy and vigorous expert legal defense at affordable, actuarially sound rates. The insurance business is dependent on literature to explain coverages and to market products. MoDocs turns to Printing You can Trust for all of their printing needs.
Laura Engnall wears many hats at MoDocs including Marketing and Purchasing duties and calls the experience of working with Printing You Can Trust, "absolutely great."
"Aaron is always available," Laura explains, "Or his assistant is available. He will call if he spots something wrong even if we've approved it already. He knows what printing services we need. His eye for detail is a big help. He catches errors!" Laura explained how MoDocs submitted a job that contained errors that were no fault of Printing You Can Trust. Even so- they covered the shipping costs to send it back out so that Laura can get her order fulfilled. "Eleven years with them and I can't say enough about them."
Printing You Can Trust offers printing services for the production of MoDocs critical print materials such as marketing brochures, pocket folders, policy covers and even developing presentations, that is critical to their business. Insurance holders demand quality. "The quality is unsurpassed," states Laura, "and the customer service is absolutely great." If she sends an email, she usually receives a response the same day. They are easy to get a hold of by phone as well.
Laura is more than satisfied. "I would definitely recommend Printing You Can Trust's printing services to anyone."